Thanksgiving is upon us and there are so many things to buy, eat, do or see in Brooklyn that, once again, you don't need to schlep into Gaphattan for fun. From finding the perfect bird to easying your post-meal guilt, here's our annual Turkey Day tribute:
Bird watching
If you haven't picked up your centerpiece yet, don't worry. Actually, start worrying — and get on the phone.
The beloved New Jersey-based vendor, DiPaola Turkeys, is taking orders for all birds from tiny to massive by phone — and you can pick up your bird at various greenmarkets this weekend.
Or, you can order the fowl this weekend, but you'll only be able to pick it up on the Wednesday before Thanksgiving in Grand Army Plaza, where DiPaola workers will show up to unload the last of this year's flock.
So what are you waiting for? Call (609) 587-9311 or e-mail [email protected] right now.
Grand Army Plaza Greenmarket (Union Street between Prospect Park West and Flatbush Avenue in Park Slope), Saturdays; Borough Hall Greenmarket (Cadman Plaza at Court Street in Brooklyn Heights). Saturdays; McCarren Park Greenmarket (Union Avenue between Driggs Avenue and N. 11th Street in Williamsburg). Saturdays; Carroll Gardens Greenmarket (Carroll Street and Smith Street). Sundays; Cortelyou Greenmarket (Courtelyou Road between Argyle and Rugby roads in Ditmas Park). Sundays.
Ain't no Jive
Roasting a turkey can be hard.
And if you're one of the 99 percent, you'll be working every day next week, so you won't have time to cook the bird anyway.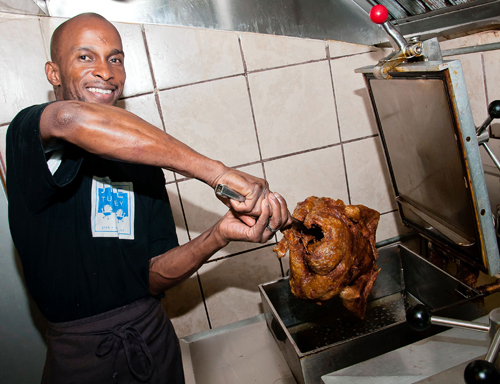 Photo by Stefano Giovannini
Fear not — Jive Turkey owner Aricka Westbrooks is already making the borough's most succulent, deep-fried poultry this side of the Mason-Dixon line.
Westbrooks started frying turkeys in her backyard for friends and neighbors in 2001. A decade later, she ships frozen turkeys all over the country with flavors including honey pecan, orange zinfandel, peach bourbon, and cajun.
So wouldn't it be much more fun to buy one of Aricka's fried birds and baste in your own juices (see our sidebar) than risk setting your apartment on fire?
Jive Turkey [570 Myrtle Ave. at Emerson Place in Clinton Hill, (718) 797-1688] To order, e-mail [email protected] or visit www.thejiveturkey.com.
Occu-pie your relatives
If you are not entrusted with making the main course — you probably have to bring a side or dessert.
But why bake a pie when there are so many glorious sweets to choose from?
Four and Twenty Blackbirds in Gowanus makes an array of traditional pies including pumpkin, chocolate pecan, and salted caramel apple pies.
Or you could hike over to Williamsburg's Momofuku Milk Bar, which packs in more butter per square inch than any other baker in the city. Buy two addictive candy pies, made with a chocolate crust, caramel, peanut butter nougat, and pretzels — and save one for yourself.
Photo by Stefano Giovannini
Or you could walk a few blocks south to the eponymous Pies 'N' Thighs and get an apple, sour cherry, or s'mores pie for your down-home meal.
Four & Twenty Blackbirds [439 Third Ave. at Eighth Street in Gowanus, (718) 499 2917]; Milk Bar Brooklyn (382 Metropolitan Ave. at Havemeyer Street in Williamsburg, no phone). Pies 'N' Thighs [166 S. Fourth St. at Driggs Avenue in Williamsburg, (347) 529-6090];
Guilt reduction
You might have the urge to volunteer at a neighborhood soup kitchen on Thursday — but they're going to be inundated with helpers. But the Ridgewood Bushwick Senior Center in Bushwick does a special Thanksgiving meal — and volunteers are needed (you don't even have to be a Democrat!).
Of course, the charity's intimidatingly affable host, Assemblyman Vito Lopez, is the borough's Democratic Party leader, but there's no Republican or Democratic way to feed the needy. So get out there and support a tradition dating back three decades.
This year, Lopez and Co. will deliver 2,500 turkeys to home-bound seniors and serve a turkey dinner with all the trimmings at the Stanhope Street center on Thursday morning.
Ridgewood Bushwick Senior Center [319 Stanhope St. at Wyckoff Avenue in Bushwick, (718) 366-3038], Nov. 24, 6 am-1 pm.
Shakesgiving
Work up a serious appetite by running five miles through glorious Prospect Park on Turkey Day — that's right; it's time for the annual Prospect Park Running Club Turkey Trot. Then, after a big meal, there's nothing like seeing a classic play. So head over to the Irondale Center to watch the new production of "Henry V." Personally, when the king says, "Once more unto the breach, dear friends," we're sure he's talking about leftovers. Or if futuristic science fiction films are more your thing, go spend Thanksgiving evening at BAM's Rose Cinemas for a special screening of Stanley Kubric's "2001: A Space Odyssey," part of BAM's "Sci-fi Thanksgiving" movie marathon.
File photo by Jeff Bachner
Prospect Park Turkey Trot, register by calling (718) 595-2049, or in person at Jack Rabbit Sports [51 Seventh Ave. between Carroll Street and Garfield Place in Park Slope, (718) 636-9000]; "2001: A Space Odyssey" at BAM Rose Cinemas [30 Lafayette Ave. between Ashland Place and St. Felix Street in Fort Greene, (718) 636-4100]. For info, visit www.bam.org; "Henry V" at The Irondale Center [85 S. Oxford St. at Fulton Street in Fort Greene, (718) 488-9233], Nov. 22-Dec. 10. Tickets, $35. For info, www.irondale.org.
Reach reporter Aaron Short at [email protected] or by calling (718) 260-2547.