They're the biggest Australian import to hit Brooklyn since Fairway started stocking Vegemite.
The Prospect Park Zoo welcomed four dingoes to its "Australian Walkabout" exhibit last Thursday — the first time the species from down under has set foot in a New York zoo in 40 years.
The year-old wild dogs, two male and two female, will join other Aussie animals like kangaroos, emus, and wallabies. And even though the furry light-brown predators are known for hunting rodents, rabbits, lizards, wallabies, and the occasional kangaroo, lovers of marsupials have nothing to fear.
Zoo keepers are only feeding the dingoes — which couples and bred before moving into their new home — a carnivorous mix of puppy chow, with the occasional dead rat for extra protein. And the zoo has secured and separated the dingo habitat from the wallabies.
"We design the exhibits so that when we do have animals that represent predator and prey, we avoid those type of incidents," said Prospect Park Zoo director Denise McClean. "The wallabies are free-roaming, though they can stay where they want to stay and they don't come on the pathways. The dingoes are behind a fence."
Both species coolly ignored adoring crowds last week. The dingoes spent much of the morning foraging for crickets while the yellow-footed rock wallabies took after their human neighbors in Park Slope and noshed on raw kale leaves.
Jason Crew, a Brooklynite by way of Australia and the owner of Aussie bar Sheep Station, believes the dingoes will quickly adapt to life in the borough.
"Dingoes are pretty resourceful, social animals," said Crew, who is not an expert in dingoes. "As long as they eat a healthy diet of babies, they'll be fine."
The Wildlife Conservation Society at Prospect Park Zoo [450 Flatbush Ave. at Ocean Avenue, Prospect Heights (718) 399-7339]. Open 10 am-5pm on weekdays, 10 am-4 pm on weekends. $8 for adults, $6 for seniors, $5 for kids 3-12, free for children under 3. Visit www.prospectparkzoo.com.
Reach reporter Aaron Short at [email protected] or by calling (718) 260-2547.
Photo by Stefano Giovannini
Photo by Stefano Giovannini
Photo by Stefano Giovannini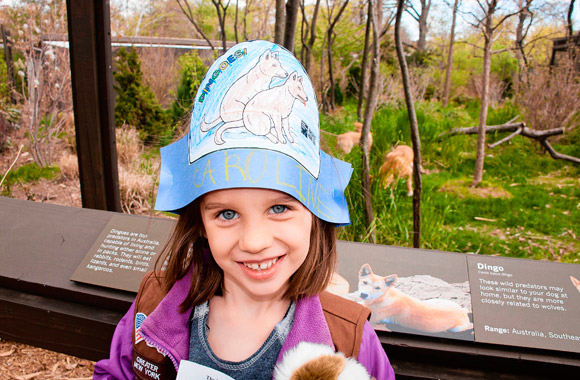 Photo by Stefano Giovannini
Photo by Stefano Giovannini