City workers have saved the day for a Florida man who had fumbled his attempt to propose to his girlfriend on the fabled Brooklyn Bridge, dropping the engagement ring out of his sweaty hands and onto construction material below.
On Friday, hours after we contacted the Department of Transportation about the bauble bobble, workers found the symbol of love and are preparing to reunite it with the happy couple.
"Are you serious?" fiancee Kelsey Kramer said after we told her the good news. "I can't believe it, I'm so happy!"
This ring cycle certainly didn't look like it would have a storybook ending on Wednesday night, when Turner and his would-be bethrothed took a walk on the bridge, entering the span on the side near Kramer's Brooklyn Heights apartment.
As Turner took the first steps onto the boardwalk, he remembered looking down and thinking how horrible it would be if the ring, with its .6-karat stone, fell.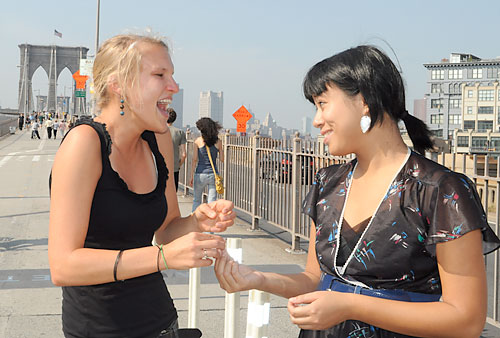 Community Newspaper Group / Joe Anuta
"The first thing I thought was that I should be really careful," he said.
When the lovebirds got to about 30 feet from the Brooklyn tower, Turner got down on one knee — but then immediately found himself scrounging around on two after he nervously dropped the ring.
"I was pulling the ring to propose, and it flipped out of my pocket," said Turner. "It flew in the air, hit the ground and started to roll. I was leaning down to grab it when it fell."
Turner added that both he and Kramer heard the ring hit a metal platform directly below them. "It was all enclosed," he said. "So I knew it was down there and not in the river."
After they peered through the cracks on the boardwalk, they contacted the Department of Transportation, which is overseeing the three-year bridge reconstruction, in hopes of recovering the ring.
Photo by Sabrina Lau