According to New York City laws, landlords must provide hot water to their tenants 365 days a year, and keep their apartments warm during the chilly months — during "Heat Season," they have to keep apartments at 68 degrees Fahrenheit when outdoor temperatures drop below 55 degrees. But the city's largest landlord — the New York City Housing Authority — often violates those laws. 
Data obtained by the Legal Aid Society through a Freedom of Information Act request shows that almost 2,000 NYCHA residents went without hot water for several hours at a time last year, while over 700 didn't have heat — some, on days when the temperature outside was as low as 23 degrees. Another 800 residents had no water at all for long stretches.
Leaders call for 'significant funding' to improve NYCHA
In Brooklyn alone, documents show there were 552 hot water outages, 232 heat outages, and 219 water outages on a daily basis. Some of the buildings listed on the documents have over 100 apartments. 
In light of the FOIL request, housing advocates are calling on Washington, Albany, and City Hall to appropriate tens of billions of dollars in funding to address what they say is longstanding negligence in public housing and the residents' basic needs.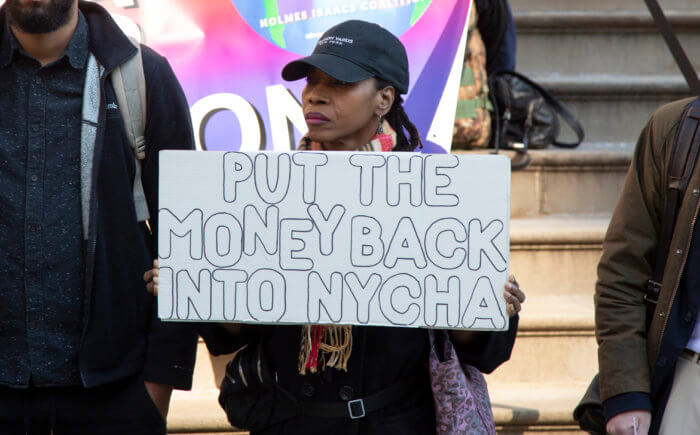 "Residents still suffer lapses in service on a daily basis," said Judith Goldiner, attorney-in-charge of the Civil Law Reform Unit at The Legal Aid Society. "We call on President Biden, Governor Hochul and Mayor Adams to allocate significant funding to address NYCHA's capital needs, which is now tens of billions of dollars and growing each and every day.
For the last Heat Season, which lasted from October 1, 2021, to May 31, 2022, utility outages across the city totaled 3,605, compared to 2,872 from the previous heat season.
Red Hook Houses, the largest NYCHA complex in the city, had both heat and hot water outages through that period. Residents spent entire days or nights without heat in a few occasions, some when the temperature reached around 30 degrees outside. In 2021, Red Hook Houses residents filed suit against NYCHA over ongoing gas outages and other long-running issues. 
As of Jan. 11, NYCHA had recently restored heat and hot water at 11 complexes across the city after outages – five were planned cuts, but the rest were unplanned. The unplanned outages affected thousands of residents, who lost heat and hot water for up to 14 hours. Five Brooklyn complexes were affected by the outages — including all of Tompkins Houses in Bedford-Stuyvesant, where 2,774 residents lost water for nine hours. 
The Legal Aid Society — which works to bring justice to all New Yorkers regarding financial and working rights, racial equality, disability, housing, and more — argues that NYCHA should issue rent abatements to tenants during outages, per the Housing Authority's legal obligation as the landlord.
The organization filed a class action lawsuit against NYCHA in New York state court in April 2018, alleging that the housing authority owed its residents rent abatements if they dealt with outages for heat and hot water. In January 2020, the suit was dismissed by the court.
"We agree with Legal Aid Society that NYCHA needs significant funding to address longstanding public housing capital needs," NYCHA said to Law360. "Utility outages are the direct result of building infrastructure that every year further deteriorates after decades of federal disinvestment. We thank the advocates for calling on our partners for support."
NYCHA did not respond to requests for comment. 
Tenants learn to live with persistent outages
Last year, over 50 residents of Coney Island's O'Dwyer Gardens and Coney Island I Sites 4 and 5 were part of a lawsuit filed against NYCHA for failing to fix their cooking gas for over a year. Residents received hot meals on less than a dozen occasions, and otherwise were expected to cook using crockpots and hot plates NYCHA had issued them while awaiting gas service to return, which pushed many residents to eat out. 
The Gowanus Houses had a similar situation for half a year and well into the cold days of December 2022. 
"It has been six long, hard months without cooking gas for residents in two of the buildings at NYCHA Gowanus Houses," said District 33 Council Member, Lincoln Restler in a statement. "On December 23, the gas was finally restored! For many residents, this had been their second outage in the span of a year."
A year ago this week, an electric space heater caused a fire in Twin Parks, a large low-income private housing complex in the Bronx. That blaze resulted in the deaths of 17 people, including eight children. A total of 44 people were injured — 32 of which sustained life-threatening injuries. Neighbors said space heaters were needed because their complaints of lack of heat went unheard. While Twin Parks was not a NYCHA complex, use of sometimes-dangerous space heaters and hot pots is common in public housing developments with persistent heat and gas outages. 
Public housing residents can use the MyNYCHA app or call the Customer Contact Center at 718-707-7771 to create a work order ticket for any maintenance needs, including service interruptions.