Students at PS 253 got a chance to learn more about the universe when they — with the help of teachers, school staff, and parents — built their own in the school gymnasium.
Under the guidance of science teachers Sharon Elfie and Hayley Kus, and with parents, custodians, Principal Lisa Speroni, and Parent Coordinator Gina Dachille, the Brighton Beach elementary school students created an interactive science fair inside of a planetarium set up in the school gymnasium. According to Elfie, the collaborative effort shows the strength of the school community.
"In PS 253 we all work as a family," she said.
Students started work on their science fair experiments back in December, after Kus and Elfie brainstormed the outer space theme with Speroni and Dachille's help. The kids met weekly deadlines as they chose a subject and conducted their experiments. Parents even came in for a workshop and created their own projects and presentation boards to understand what their children's work should look like, while custodians constructed a space tunnel in the gym out of tarps and plastic piping. Inside the tunnel, students created accurate models of the solar system and set-up listening stations — recordings of themselves reading books about outer space for other children and their parents to listen to — while school staff installed seven-foot-tall model rocket ships and mannequins painted to look like aliens. The top projects — two from each grade — were displayed in the mini-planetarium.
The students' experiments covered a wide range of topics, but all of them reflected the children's comprehension of science, said Kus.
"We used the scientific method all along the way, and they got to use what they learned during the school year," she explained. "We wanted all the students not only to gather the data and make a strong presentation, but be able to speak about what they have learned."
Dachille says the community-oriented nature of the science fair led to an increased feeling of cooperation and belonging for the students, who hail from 53 different nationalities and often speak English as a second language.
"What it does for the children is it makes them feel like they are a part of this. It unifies them. They're learning, and their working together toward a common goal," she said.
And Elfie said the interactive experience of the fair, with its written, visual, and spoken elements, improved student understanding.
"Many of our students are English language learners, so when you put something in front of them and it's just words, they don't understand them," she said. "When there's things they can smell and touch and see, they understand it better."
Speroni says the fair illustrates how invested Kus and Elfie are in their work.
"The teachers were able to raise their own professional bar not just to make the science fair for children but to involve the community," said Speroni.
Feedback has been so positive, the school is already planning a similar fair for next year, though it is keeping the new theme a secret.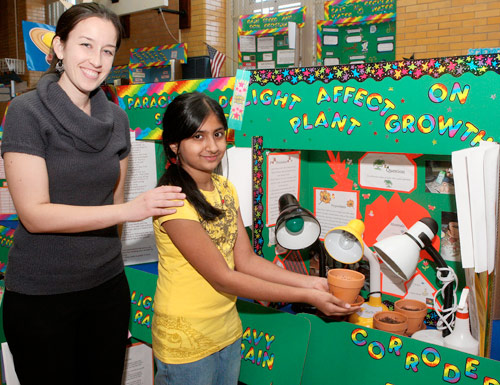 Photo by Steve Solomonson