Whether you're riding to work, school, or even a friend's apartment, a major part of living in New York City is dealing with public transportation daily. It has been that way for decades, but while the commute hasn't changed, city buses definitely have. Through the last 90 years, New Yorkers have ridden on very different vehicles to get from one neighborhood to another, and the New York Transit Museum is bringing some long-retired models them back to life this summer.
On June 10, New Yorkers will have the opportunity to commute through time at the museum's fourth-annual Bus Festival, where eight vintage buses that have traversed the streets of New York at different points in time will be celebrated. The museum, founded in 1976, tells the stories of mass transportation, how it has drastically transformed communities, and gives a spotlight to the minds that have kept the city moving and those who made sure it was done with stylish designs. 
The event will take place under the Brooklyn Bridge, at the newly-restored Emily Warren Roebling Plaza with Dumbo's iconic view of the Manhattan skyline as a backdrop.  
Some of the stars on display include Bus 2969, known as the "Jackie Gleason Bus," as it's the same model the comedian was photographed in as Ralph Kramden in the classic television series "The Honeymooners." It was one of the first 40-foot transit buses and was specifically designed for New York City in 1948 with double-width front doors.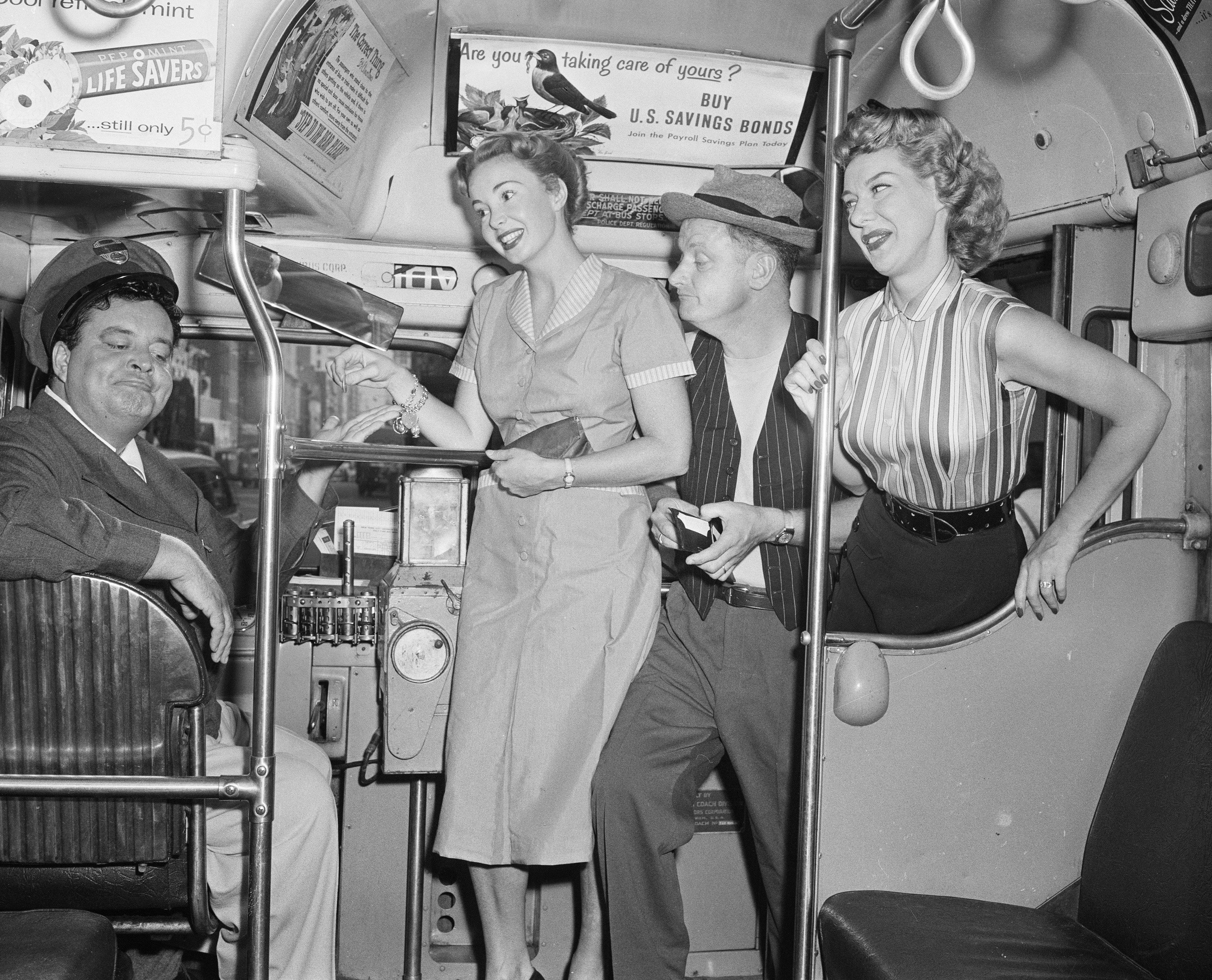 A true New Yorker, the Fifth Avenue Coach Company prototype bus, will also make an appearance at the festival. This bus debuted in 1956 as one of the first air-conditioned transit buses nationwide. It was designed and built as an experiment, it features a push-type rear exit door, wrap-around soft seating in the rear, fluorescent lighting, and a swanky green and yellow paint scheme.  
Transit enthusiasts will get to meet and greet the Bus 100, one of the first group of 190 buses that introduced the "New Look" or "Fishbowl" style, so named because of its large bubble-shaped windshield, to New York City in 1959. The style was popular until 1980.
A more familiar face will be Bus 5249, from 1999. The blue and white buses, with their signature curved windshields, are a familiar sight to the latest generations of New Yorkers. This is the last RTS bus ordered for service in New York City.  With their wheelchair lifts, they made the MTA  the first major public transit agency to have a fully accessible bus fleet. In 2019, the final remaining RTS buses were retired, ending a near-40-year run.
Attendees can climb on the buses, enjoy photo ops, meet some of the bus drivers and hear about their experiences, and shop at a themed pop-up shop. The festival is free to attend, and runs from 10am to 4pm.